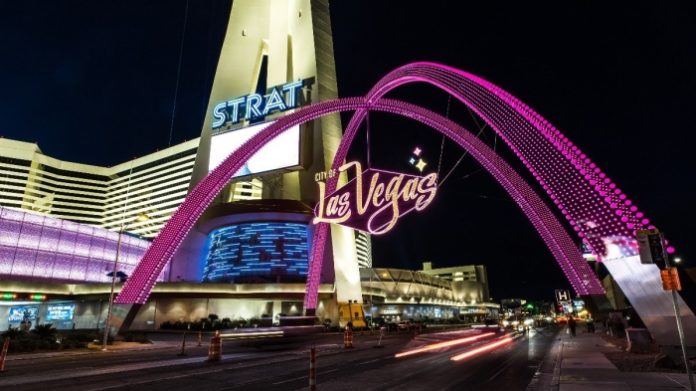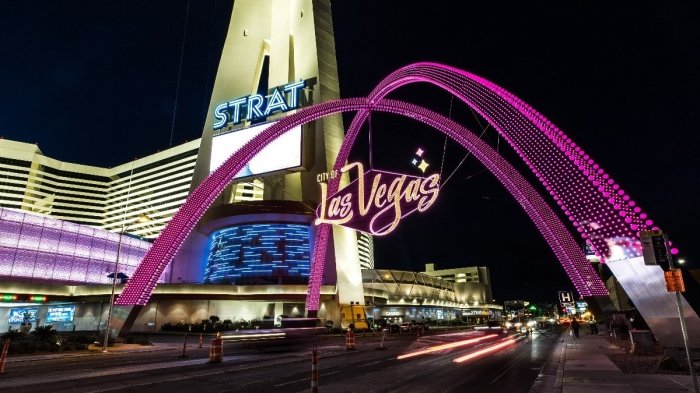 O
n Wednesday night, new glittering arches were lit up at the base of the Strat Hotel on Las Vegas Boulevard at sunset.
"Las Vegas is known worldwide as the getaway for the best in entertainment, fun, dining, and convention business," Mayor Carolyn G. Goodman said in a statement. "What better way to invite everyone into historic downtown than by passing through this massive new archway into the heart of a revitalized Las Vegas?"
The 80-foot-tall "Gateway Arches" will light up blue every night and mark the "entrance" to the city of Las Vegas.
It's official…the new Gateway Arches are lit! Standing at 80 feet tall with over 13,000 LED lights, this striking monument marks where the Las Vegas Strip meets Downtown Las Vegas. Come check them out from our Observation Deck or right outside our main entrance. pic.twitter.com/NOt04twHLa

— The STRAT Las Vegas (@stratvegas) November 18, 2020
Dianne Chui, dispensary manager for Curaleaf said construction from the Las Vegas Boulevard Improvement Project has made vehicle and foot traffic difficult.
"Especially for the businesses, the construction has been really hard so we're really hoping it will drive traffic in and especially with the new sidewalks being built pretty soon. But it will be a lot safer for pedestrians to walk around this area as well," Chui said.
She said they're hoping the archway will be a bright focus point coming in from the south part of the strip over to the north point. She also added the arches bring a modern, revitalized addition to an older part of town.
"There's been a lot of businesses that are closing or changing, we are one of the newer businesses out here so that really helped with revitalizing this neighborhood. With downtown up and coming this kind of fills in those gaps between the strip and downtown. So I really do see a lot of growth out here," Chui said.
The arches were designed by Selbert Perkins Design and created and installed by YESCO, which is known for the famous "Welcome to Las Vegas" sign near the Las Vegas Strip.
"YESCO has a long history of fabricating, installing and maintaining Las Vegas' most internationally recognizable signs, and the Gateway Arches represent the newest monumental addition to that portfolio," YESCO chief marketing officer Jeff Young said in a statement. "This project is history in the making, and we're proud to have partnered with the city of Las Vegas and Selbert Perkins Design to bring it to life."
There are 900+ LED lamps in the southern face of the hanging "Las Vegas" cabinet. Four footings were drilled with a drill rig and are 20 feet deep by 4 feet wide, with a steel-reinforced cage.
Original article: https://www.yogonet.com/international//noticias/2020/11/23/55539-las-vegas-new-gateway-arches-light-up-at-the-base-of-the-strat-hotel